Norrmalmstorg - Waldemarsudde
The Djurgården line
Work on Djurgårdslinjen was begun in 1877, and in July of the same year, the first portion of the line, between Slussplan and Grevbron, was opened. In October of the same year, the line was extended to Djurgården. The stretch between Slussen and Norrmalmstorg was removed in 1882.
Horse-drawn trams
At first, the line was operated with small horse-drawn trams that could carry 22 people each. These cars were manufactured by Atlas shops in Stockholm. There were no stops at that time, and passengers placed their fares into a farebox on the tram. Not until a couple of years later were conductors introduced on the new, larger trams that came into use then.
Electrification

The line was electrified in 1904, and at the end of that year it received its line number, 7. Twenty years later, in 1925, service to Djurgården was taken over by line 14, which gained a new alignment because trams were no longer running on Kungsgatan. In connection with these changes, Djurgårdslinjen was extended from Norrmalmstorg to Vanadisplan. Line 7 continued in service, though, as an extra line, run when needed, until 1947 when line 14 was renumbered back to line 7.

Last tram in
The line continued to run until 1967, when most of the tram lines in Stockholm were abandoned. The last tram to run on the streets of Stockholm that night was, in fact, a night tram on line 7. On that last day, the line ran from Vanadisplan to Djurgården. Tram line 7 was replaced by bus lines 47 and 61; this had actually started back in 1965, when buses began to replace trams on the line after 8 p.m. in the winter.
The "new" Djurgårdslinjen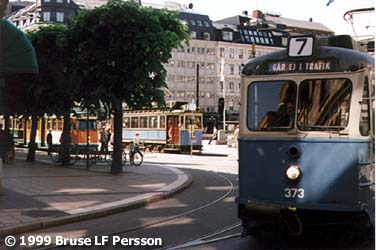 In 1985, the Stockholm City Council took the decision to create an operating vintage tramway. This led to the beginning of construction on Djurgårdslinjen in 1990, and the line was ready to begin service in June of 1991. The reborn Djurgårdslinjen is run on a non-profit basis by members of the Stockholm chapter of the Swedish Tramway Society, and in the summer of 1998 the total number of passengers on the "new" line passed the two million mark. There have been discussions about extending the line toward the center of the city and operating it as a "normal" tramway, but these plans are on hold right now.

Stops:
Norrmalmstorg (Nmt)
Nybroplan (Nbp)
Styrmansgatan (Smg)
Djurgårdsbron (Dgb)
Nordiska Museet/Wasamuseet (NoM)
Hazeliusporten (Hap)
Konsthallen (Koh)
Skansen (Skn)
Waldemarsudde (Wau)
Bellmansro (Ber)
FACTS
type of service
museum tramway
name
Djurgårdslinjen
number
7
terminals
Norrmalmstorg
Waldemarsudde
length
3,2 km
stops
10
cars
• 6 of class A31
• 8 of different motorised trams
• 4 of class B31
• 4 of different trailers
>> Read more at the homepage of Djurgården line.
Text: Per Ampferer
English translation: Tim Kynerd